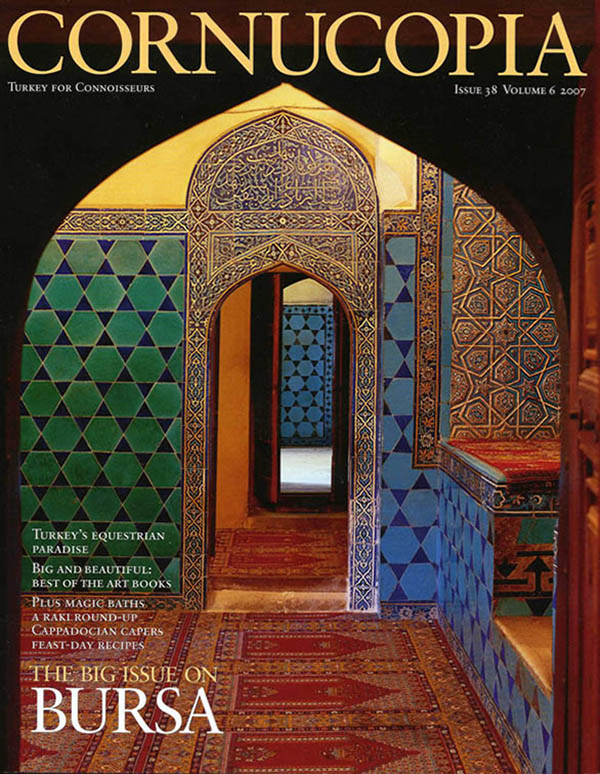 It is to the credit of the Suna and Inan Kırac Foundation that it has made possible the publication of Garo Kürkman's enlightened research on the history of Kütahya and its potters. John Carswell's pioneering work in the 1970s and several recent catalogues have shed light on the variety of these ceramics. But this volume incorporates further information on earlier Turkish ceramics, as well as early Ottoman tilework, in both Islamic and Christian buildings. An exhaustive list of inscriptions and their translations, both in Ottoman Turkish and Armenian, alongside a comprehensive survey of potters' marks, provides an unrivalled body of information.
The colourful decoration of Kütahya tiles and ceramic objects, so unlike the ornamental beauty of Iznik design, is truly enhanced by the layout of this handsome volume. Numerous pieces from Turkish collections have been included. They underline the great variety of shapes and designs, used in particular in the eighteenth century by Kütahya potters on such items as dishes, basins, ewers, candlesticks, moneyboxes, mugs and bottles, gourds and jugs. Less famous pieces, such as the lamp from the Gulbenkian Collection in Lisbon, have also been brought to light. So has the large collection of small cups, rescued from an eighteenth-century wreck discovered in the Sea of Marmara, between the island of Büyükada and the suburb of Kartal. Since 1987 these have been stored in the Museum of Turkish and Islamic Art in Istanbul. The illustrations of tiles, dated 1719, in the Surp Hagop monastery in Jerusalem, take up over twenty pages.
The traditional decoration of Christian manuscripts does partly explain the biblical illustrations on both tiles and dedicated dishes, though the naivety of most designs comes closer to those found on amulet scrolls, often with seventeenth-century dates. These scrolls were decorated with scenes from the Old and New Testaments, and with figures of saints and holy men. Other designs, some quite fantastic, have not to this day been explained. Jean Soustiel, in La Céramique Islamique (Fribourg, 1985), perceived the influence of Indian chintzes, but did not engage in further research. Fortunately, this has recently been achieved with the analysis of floral designs found on eighteenth-century palampores from the Coromandel coast of India. Some of these painted cottons were used as hangings in front of church altars.
In a brief first chapter Önder Bilgi introduces the reader to the region's earliest ceramic production, and shows it to have started in the early Bronze Age, continuing through the Hittite period and the Phrygian Iron Age, on through Hellenistic and Roman times and ending with the Byzantine era.
Besides the historical background of the town of Kütahya itself, an impressive survey of documents by Garo Kürkman has produced a fascinating list of potters, mainly working in Kütahya, from the Tabrizi fiteenth-century tile-maker Muhammed Mecnun (who signed his work in the Yesil Cami, or Green Mosque, in Bursa), to Mehmed Emin Efendi (1872–1922), a leading name in the great revival of tile-making before the First World War. He often worked in partnership with the Minasyans, as well as with David Ohannesyan, who was to move on to Aleppo, Jerusalem and eventually Cairo. Stepan Vartanyan also became famous for his designs for tiles in Ottoman foundations and Armenian churches. Ten of these are reproduced, showing a meticulous adaptation of classical Iznik motifs, which are given a new lease of life. Special mention should be made of the lists of potters, both Muslim and Christian, in local documents dated 1764 and 1766.
In the first part of the annexes, Michael Rogers surveys in nine pages seven centuries of Ottoman architecture and the tilework related to it. This dense résumé underlines the precarious balance between supply and demand in the metropolis (Istanbul) and the provinces (Iznik and Kütahya) supplying it with ceramic goods.
The Turkish–English glossary of ceramic terms which follows should be used with care. Its translations will be useful to foreign collectors, but anyone using the references to world ceramics, mainly drawn from Turkish sources, should be wary of a number of inaccuracies.
To conclude, this welcome volume truly brings forward our knowledge of Kütahya and its production of ceramics down the ages.